UCIT Limited have direct access to all NZ distributors, who supply the main recognised brands of CCTV solutions. We also source directly from Geovision in Taiwan, a very comprehensive range of Cameras and NVR solutions, that provide high quality solutions at very competitive prices with extended 3 year warranties on all products.
Please click on link to see the comprehensive range of solutions we can offer through Geovision, a major international CCTV specialised manufacturer www.geovision.com.tw
UCIT have always strived to provide the best quality CCTV (video security) solutions to our clients, as we know that what you see with your eye, is what you should with your CCTV system.
With the introduction of IP High Definition cameras and recording software this has now become the reality
UCIT can offer cameras for all varying requirements of an installation, be it low light conditions, number plate ID, Health & Safety, transaction tracking, object tracking, people counting, intrusion alerts and a host of other reasons.
The IP cameras range from 1.3, 2, 3 5,7 and up to 12 Megapixel and are chosen for each specific installation requirement. All cameras of 2MP or more can provide real time frames rates, so smooth movement and do not miss a thing, where fast hands could beat the older analogue frame rates.
The 360 Degree Fisheye, as per the photos, is an example of a camera that misses nothing, that is in its total view, and with the different view options, of Quad, Single Zoomed, Dual 180 in de-warped normal images, and the ability to click and move around the whole original 360 degree image, these are one of the most popular cameras for bigger general areas, where normally you might need 3 or 4 cameras to cover, hence big savings in installation and other equipment costs.
Please call UCIT for a free on site consultation, design and proposal.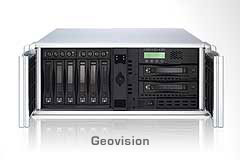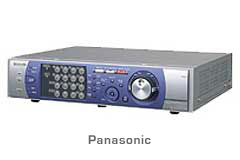 UCIT Ltd has technicians who can install cctv systems for 1 to 1xxx cameras, to allow you to digitally record high quality images directly onto the NVR hard-drive, and then locate and view these stored images quickly and efficiently. UCIT Ltd stocks a wide range of DVR/NVR systems featuring:
High quality digital recording
Powerful data storage capacity
Storage of multiple video & audio streams
Real time recording and playback
Easy to operate and maintain
---
Geovision DVR/NVR
Offer fully customised solutions. Geovision has many form factors from Compact Shuttle cases, Small Form Factor cases (for up to 8 cameras in businesses where space is an issue) to Rack Mount & Mid Tower Server cases (to integrate into Network server cabinets for larger businesses). Scaleable Analogue & IP Digital Video Recorders to take 2, 4, 8,16,32 IP or Analogue cameras, or Network video recorder to 64 camaros per system
---
Panasonic DVR/NVR
Provide Analogue and IP DVR's to Recorders to take Analogue or IP cameras with IP Management Software that can be installed on existing network servers to mange these IP cameras.
---
Bosch DVR/NVR
Offer Analogue, IP & Hybrid (IP & Analogue) DVR's to take anything from 6 Analogue cameras to 30 Analogue and 32 IP cameras on the same DVR.